Mumbai (Maharashtra) [India], January 29 (ANI): When the last rites of Rakhi Sawant's mother Jaya Bheda were performed in Oshiwara, Andheri on Sunday, the reality TV star broke down and was consoled by Farah Khan, and other friends.
Rakhi and her brother had carried the coffin for burial and offers prayers at her grave.
Rakhi's Bollywood friends including Farah Khan, Rashami Desai, Sangeeta Kapure, and Ehsaan Qureshi attended the ceremony.


During the last rites, Rakhi offered flowers at her grave.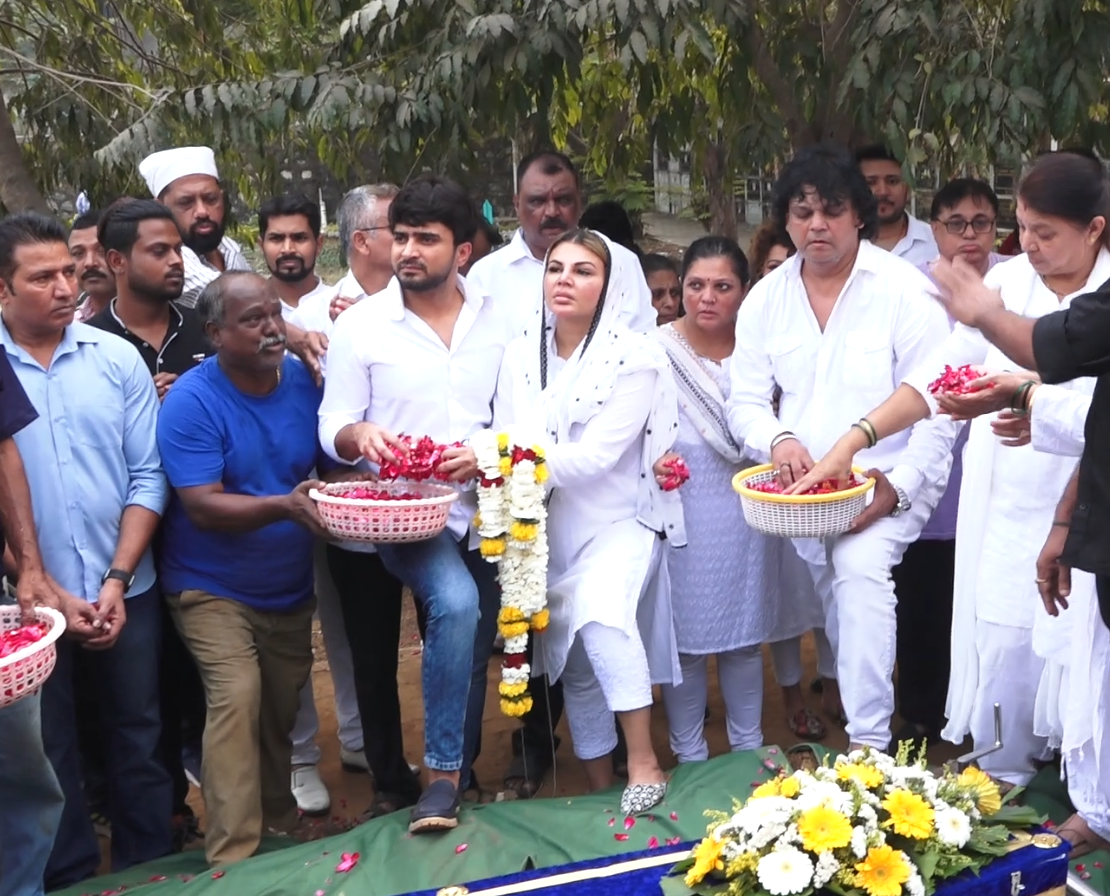 Rajiv Bhatia and actor-fashion designer Rohit K Verma were also seen at the last rites of Jaya.


Rakhi's mother Jaya Bheda, died due to endometrial cancer on Saturday night.
Sharing the unfortunate news on Instagram, Rakhi wrote, "Aj meri maa ka haat sar se uth gaya. Or mere pass khone ke liye kuch nhi bacha .I love you MAA. Aap ke bina kuch nhi raha,ab koun meri pukar sunega or koun mujhe gale lagayega maa..Ab Mai kya karu...kaha jauuuu..I miss you Aai. (Today my mother's hand was lifted from my head. I have nothing left to lose. I miss you mother. Now, who will listen to me and hug me.)"
Alongside the emotional note, Rakhi posted a heartbreaking video. In the clip, Rakhi can be seen sitting on the hospital's floor and offering prayers while her mother rests on the bed. Rakhi is seen crying inconsolably.
After learning about the demise of Rakhi's mother, members from the film and TV industry paid their heartfelt condolences.
Veteran actor Jackie Shroff commented, "I feel your pain having lost my mom dad brother their soul will always be with us."
Actress Ridhima Pandit commented, "Stay strong Rakhi...sending prayers and love... May her soul rest in peace."
"Very sad Rakhi, please stay strong. OM SHANTI," singer Ankit Tiwari wrote.
Rakhi's mother was suffering from cancer for nearly three years. She was 73.
Just a few days back, Rakhi visited Khwaja Gharib Nawaz Dargah Sharif to pray for her mother's health. Rakhi always shared videos and photos of her mother on social media. In fact, a couple of days ago she uploaded a video on Instagram asking her fans and friends to pray for her mother's deteriorating health.
Even during her stint in 'Bigg Boss', Rakhi revealed that she was doing the show to cover her mother's medical expenses. After her revelation in 2021, Salman Khan's brother Sohail Khan reportedly extended financial help to her to cover the hospital bills. (ANI)