New Delhi [India], February 9 (ANI/SRV): Meera Dental Care, founded by Dr Anant Gupta, the best dentist in Varanasi, recently announced the launch of Varanasi's first Intra Oral Scanner. This state-of-the-art technology allows precise digital imaging of the teeth and gums, making diagnosis and treatment faster and more accurate than ever before.
The intra-oral scanner uses advanced cameras and software to capture high-resolution images of the teeth and gums, providing an in-depth view of the oral cavity that was previously impossible to achieve. This technology allows for the diagnosis of a wide range of dental conditions, including cavities, gum disease, and orthodontic issues, with greater accuracy and efficiency. Additionally, the scanner can create highly detailed and accurate digital models of the teeth, which can be used to plan and execute complex dental procedures with unrivalled precision.
"We are thrilled to be at the forefront of dental care technology in Varanasi," said Dr Anant Gupta of Meera Dental Care. "Our patients will now have access to the most advanced imaging technology available, significantly improving the quality of care we can provide and in less turnaround time.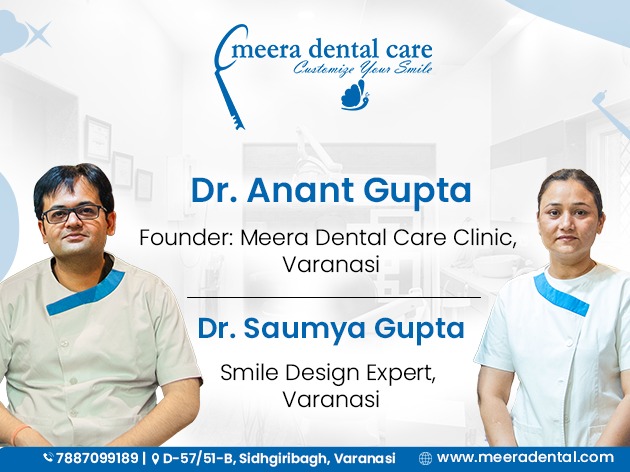 Dr Saumya Gupta, a smile design expert in Varanasi & partner at Meera Dental Care, said, "We have been the first movers in tech integration for Dental Care since 2006. With the introduction of Intra Oral Scanner, we can make precision fitting crowns & bridges. Previously, for implant crowns, we had to use a few other appendages before taking impressions, which is not required with IOS. This makes the TAT very less and the crown can be made available in 24 - 48 hours". She added, "the fittings & aesthetics of the scanned prosthetic teeth is far better than the prosthetic teeth from traditional impression methods."

Meera Dental Care has been renowned as the best dental clinic in Varanasi since 2006 for technology, advanced procedures & hygiene. It has over 10,000 satisfied patients. With the introduction of Intra Oral Scanner, the clinic can now offer patients the latest in dental technology, making diagnosis, treatment & prosthetic teeth faster, more accurate and more comfortable.
We invite everyone having Dental Conditions to experience the benefits of this new technology and schedule an appointment today on our website www.meeradental.com.
Contact:
Dr Anant Gupta
+91 9319341090
meeradentalcare2006@gmail.com
This story has been provided by SRV. ANI will not be responsible in any way for the content of this article. (ANI/SRV)